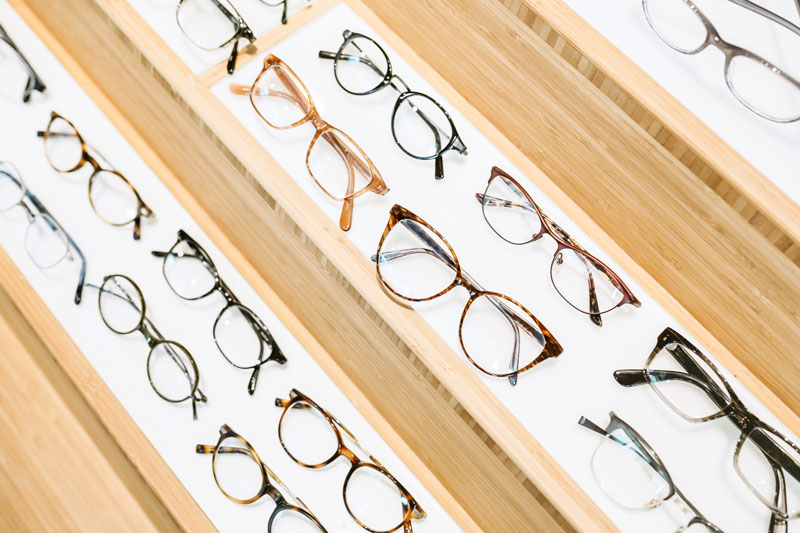 Find the Right Pair
Individuals should not purchase new glasses without first having an eye exam to make sure they are purchasing glasses with lenses that are right for their unique set of eyes. During an eye exam an eyecare provider checks to see if an individual requires prescription lenses, reading glasses, or lenses that help alleviate the symptoms felt from digital devices, as well as look for signs of common eye diseases, assess how the eyes work together, and evaluate the eyes as indicators of overall health.
Once you and your eyecare provider determine the right lens solution for you, it is time to pick out a pair. When purchasing readers, individuals should keep the following key tips in mind:
Fit matters! Remember that readers should be in proportion to the face, and opposites attract in terms of frame and face shapes. The silhouette of the eyewear should contrast with the shape of the face.
Starting a collection is key. Why only one pair? Having multiple pairs not only allows you to switch up your style, but helps you still have options if you misplace a pair so you never have to go without. Consider keeping pairs at home, at the office, in the car, in your purse/briefcase, or whereever a reading opportunity presents itself.
Know your vision needs. Visit your eyecare provider for a comprehensive annual eye exam to find out what lens strength your eyes require.
Stay in tune with your style. Every individual naturally gravitates toward a specific style and shops accordingly. You should maintain that mindset when it comes to snagging readers to ensure your new pairs stay in line with your unique look.