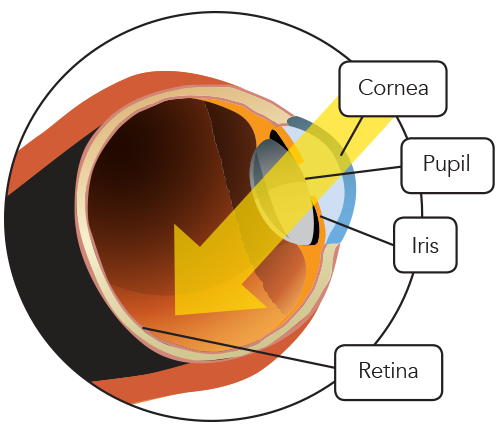 UVA rays, which account for the majority of UV exposure, pierce the outer and middle layer of the skin and can damage the retina of the eye. UVB rays damage the skin's outer layer and are the culprit for sunburns, pterygium (an abnormal growth on the surface of the eye) and photokeratitis (sunburn of the eye). UVB rays have also been shown to accelerate cataract development and age-related macular degeneration, and to cause squamous cell carcinoma of the eye (a form of cancer).
UVA and UVB rays can reflect off surfaces such as water, sand, snow and even buildings. Reflected UV increases exposure levels and can double UV risk to the eyes in certain conditions, such as with snow.
While the eyelid is designed to limit the amount of UV radiation that enters the eye, the thin, delicate tissue is not entirely effective at protecting the cornea, which is the clear surface of the eye. Over time, cumulative UV exposure can yellow both the lens and the cornea, making it more difficult to see contrast.