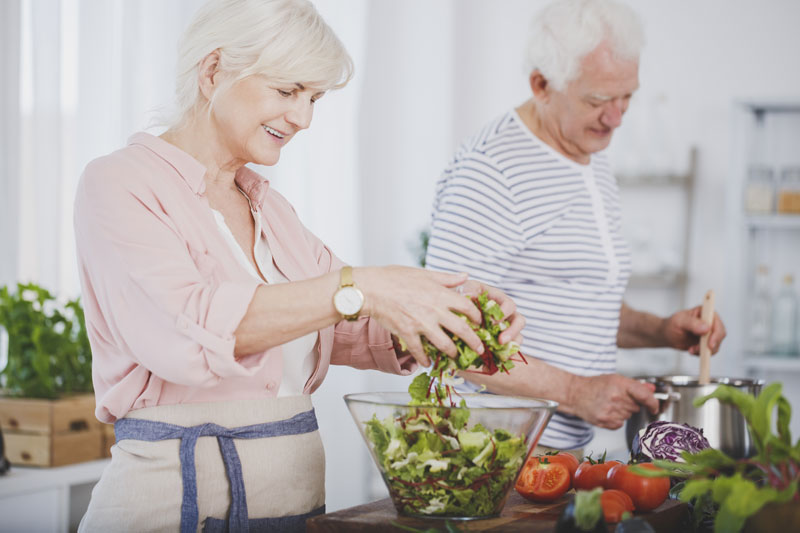 Improve Your Diet
Research has found that people who do not eat the recommended daily allowance of fruits, vegetables, nuts, and whole grains increase their risk for developing cataracts. Also, dark, leafy greens and foods rich in omega-3 fatty acids, such as fish and nuts, can help prevent vision problems, according to the American Optometric Association.
Living healthy starts with eating healthy.  Research indicates that foods with the following ingredients nourish your eyes, and may help prevent eye diseases that often emerge later in life.
Vitamin A is a fundamental ingredient for healthy eyes. Your retina needs Vitamin A to maintain the light-sensitive cells in your retina. Vitamin A deficiency is a leading cause of blindness in the world. Vitamin A is also essential for your night vision, and helps prevent dry eye syndrome.  Foods that are rich in Vitamin A include carrots, sweet potatoes, cantaloupes and apricots.
Vitamins E and C contain antioxidants that are essential for preventing cell damage in your eyes, and may lower your risk of developing age-related macular degeneration (AMD) and cataracts. They also help prevent heart disease and cancer. Foods that contain high levels of Vitamin C include citrus fruits, kiwi fruit, strawberries, tomatoes, red and green peppers, and broccoli. Vitamin E is found in almonds, sunflower seeds, olive oil and avocadoes.
Zinc helps your body absorb Vitamin A and supports antioxidants. Good sources of zinc include beans and lentils, meats and seafood, dairy products, and eggs.
Lutein and zeaxanthin are important to maintain retinal health. Because they are both plant pigments, they can be found in many colorful fruits and vegetables. These include green, leafy vegetables like kale and spinach. Broccoli, asparagus, raspberries, papayas, peaches and mangoes are also good sources of lutein and zeaxanthin.
Studies have shown that people whose diets are rich in Omega-3 fatty acids are less likely to develop age-related macular degeneration (AMD)1. They also support healthy tear function, which can help prevent dry eye syndrome. Cold-water fish like salmon, tuna, sardines, halibut and trout are rich in Omega-3.